THE ULTIMATE STREETWEAR SAMPLE SALE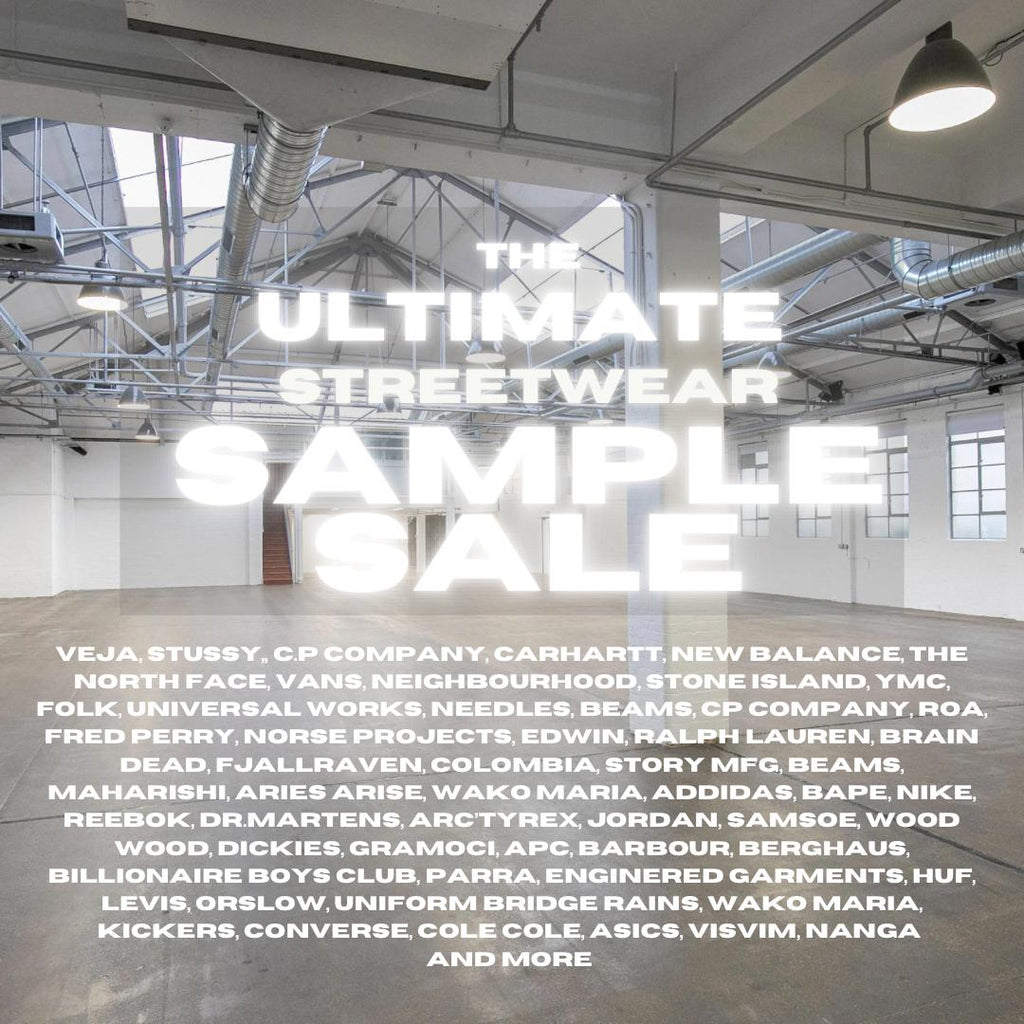 This event will now take place in studios 4 & 5 of the Protein Studios in Shoreditch which is 10,000 sq ft in size.

Link: Eventbrite.com
Expect big discounts, tons of stock and an overall fun shopping experience.
Brands will include
4SDESIGNS, A KIND OF GUISE, A VONTADE, AAPE BY A BATHING APE, ADIDAS, ADISH, ADSUM, AKILA, ALAN PAINE, ALBAM, ANDERSONS, ANONYMOUS ISM, ANOTHER ASPCET, APC, ARIES, ARMOUR LUX, AUTRY, AWAKE NY, BARBOUR, BARBOUR BEACON, BARACUTA, BATTENWEAR, BAUM UND PERDGA, BEAMS, BELSTAFF, BERGHAUS, BERGHAUS, BILLIONAIRE BOYS CLUB, BIRKENSTOCK, BLEU DE CHAUFFE, BONNETERIE, BRAIN DEAD, BURLINGTON, BURLINGTON, CAV EMPT, CHACO, CHAMPION, COLUMBIA, CORRIDOOR, COTOPAXI, CP COMPANY, DEUS EX MACHINA, DICKIES, EASTLOGUE, EDWIN, ENGINEERED GARMENST, F/CE, FAR AFIELD, FILSON, FAJALL RAVEN, FKN AWSOME, FOLK, FRED PERRY, FRIZIMWORKS, FUJKITO, GARDEN & SEEDS, GENERAL ADMISSION, GOLDEN BEAR, GOLDWIN, GRAMICCI, HERESY, HIKERDELIC, HOUL BAR, HOMECORE, HOWLIN, HUF, ICE CREAM, JACKMAN, JORDAN, KAPTAIN SUNSHIN, KARDO, KAVU, KLATTERMUSEN, KWAY, LACOSTE, LAVENHAM, LEE JEANS, LEVI'S, LIBERAIDERS, LIFE IS UNFAIR, LMC, MAHARISHI, MAISON, MANASTASH, MARKET, MFPEN, MUCHACARNE, NANAMICA,NANGA, NAPAPIJIRI, NEEDLES, NEIGHBOURHOOD, NAMEN, NEW BALANCE, NIKE, NN07, NORSE PROJECTS, NUDIE JEANS, OBEY, OI POLLOI, ON RUNNING, ORIGINAL MADRAS, ORSLOW, OSTRYA, OTTI, PALMES, PARAMO, PAREL STUDIOS, PARLEZ, PATSGONIS, PATTA, PAUL AND SHARK, PENDLETON, PERKS, PILGRIM SURF &, PLEASURES ART, POLER, PORTUGESE FLANNEL, PUMA, PYRENEX, QUIET LIFE, QUICKSILVER, RAINS, RALPH LAUREN, REAL BAD MAN, RECEPTION, REESE COOPER, ROA, RUSSEL ATHLETICS, S.K.MANOR, SAMSOE, SASSAFAS, SATA, SEFR, SERGIO TACCHINI, SERVICE WORKS. SIZE, SNOW PEAK, SOUTH3 WEST8, STAN RAY, STAND STUDIO, STONE ISLAND, STORY MFG, SUNFLOWER, SUNRAY SP'WEAR, SUNSPEL, TAION, TEN C, THE CORONA UTIL, THE NORTH FACE, THING FABRIC, TOMMY JEANS, TOPO DESIGNS, TRETORN, TSPTR, UNFEIGNED, UNIFORM BRIDGE, UNIVERSAL WORKS, VANS, VENTURON, VISVIM, WACKO MARIA, WILD THINGS, WOOD WOOD, WORKDAY, WORKWARE, WOVEN, WRANGLER, YMC AND MORE.
PLEASE NOTE ALL LARGE BAGS WILL NEED TO BE CHECKED INTO OUR CLOAK ROOM ALONG WITH ANY HEAVY JACKETS. ANY UNCHECKED IN BAGS MAY BE CHECKED ON THE WAY OUT BY SECURITY SO PLEASE TRAVEL LIGHT.
ALL SALES ARE FINAL SO PLEASE ENSURE THAT YOU ARE HAPPY WITH YOUR GOODS BEFORE YOU LEAVE.
CLOSEST STATIONS ARE
- SHOREDITCH HIGH STREET (OVERGROUND)
- OLD STREET - NORTHERN LINE (UNDERGROUND)
- LIVERPOOL STREET - CENTRAL LINE (UNDERGROUND)
WE LOOK FORWARD TO SEEING YOU.